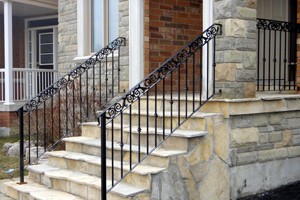 Whether it's purely for aesthetic reasons or for practicality and ease of use, railings are a great accompaniment to stairs and other features in the home, which more often than not look bare without them. However, different types of railings perform different functions, and it can be tricky deciding which type to pick for your stairs with so many options and choices. Here are five reasons why stainless steel railings in Toronto are the best choice.
Why You Should Pick Stainless Steel Railings in Toronto
Because of How they Look
Whilst wooden rails may look rustic, few railing types are as timelessly beautiful and fit in quite as well as stainless steel railing in Toronto. You can learn a lot about a person from their home, and stainless steel railing are bound to make a great first impression. They're also versatile in that they can work with any type of home; quite often, wooden and other types of railing don't complement a home's features like stainless steel ones do and can look out of place. But not only do they look great, they look strong – making them an effective deterrent of crime.
They're Low Maintenance
If you buy wooden railings, you'll face a constant battle to stay on top of the upkeep. They'll undoubtedly look good at first, but over time they'll need treating and staining several times to make sure they're at their best, and can deteriorate due to weathering and pests. With stainless steel railings in Toronto, this isn't something you have to worry about. They'll look as great as the day you bought them for years, saving you time, effort and keeping your home looking beautiful.
They Have Plenty of Options
With wood, quite often what you see is what you get. With stainless steel, however, there are plenty of options in terms of design. From round to square, patterned to plain, there's bound to be a choice that can complement the style of your building, which is more than you can say for other types of railing.
They're Cheap
There's an abundance of stainless steel available and it's easy to join and install, making it a surprisingly cheap option for railings in the home. Not only that, but the low-maintenance costs means that you'll be saving a small fortune for each year that you have them.
It's Strong
Stainless steel is a strong product that won't buckle under and pressure or suffer greatly from the elements. Unlike other railing materials, it won't get weaker over time and won't degrade or suffer rust, meaning you won't have to go and replace it every few years.
Stylish and Practical
Some railing types are stylish, some are practical, and some – such as stainless steel – are both. For a strong product that's cheap to buy, cheaper to maintain and undoubtedly beautiful, you can't go far wrong if you choose stainless steel for your railing at your property.