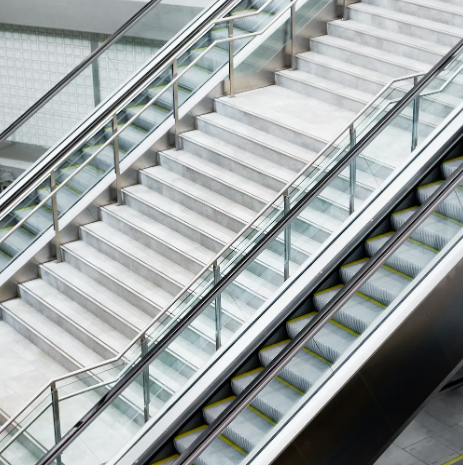 The aesthetic appeal of interiors is crucial in creating a welcoming and professional atmosphere for businesses. Glass stair railings, with their blend of modern elegance and functionality, have become a popular choice. This article explores various glass stair railing styles, aiming to help business owners identify options that align with their unique aesthetic preferences and contemporary design architecture.
Contemporary Elegance: Frameless Glass Stair Railings
For a sleek and contemporary look, frameless glass stair railings are an ideal choice. The absence of visible frames allows for an uninterrupted view, creating an open and spacious feel. Suited for corporate settings, upscale retail environments, and modern offices, the simplicity of design enhances the overall sophistication of the business space. Contemporary design and architecture make an incredible difference.
Architectural Harmony: Glass and Metal Combinations
Glass and metal combinations offer a harmonious balance between glass elegance and structural stability. This style features glass panels supported by metal posts or handrails, creating a visually striking and architecturally interesting design. Versatile and suitable for various business settings, it adds both aesthetic appeal and structural robustness. What are some other considerations?
Classic Sophistication: Wood and Glass Fusion
The fusion of wood and glass in stair railings is a timeless choice for businesses aiming for classic sophistication. Wood handrails or balusters combined with glass panels create a warm and inviting atmosphere, blending traditional and modern elements seamlessly. Popular in hotels, restaurants, and professional offices, this style conveys a sense of heritage, luxury, or craftsmanship.
Corporate Branding: Customized Glass Etching and Brand Colors
Incorporating corporate branding into glass stair railings is an innovative way to reinforce business identity. Customized glass etching or the use of brand colors on glass panels allows for a unique and personalized touch. Particularly beneficial for businesses in creative industries, this approach adds a bespoke element to the overall interior design.
Practical Sophistication: Stainless Steel and Glass Combinations
When durability and low maintenance are priorities, stainless steel and glass combinations are an excellent choice. Providing structural support and a modern edge, stainless steel pairs elegantly with transparent glass panels. Ideal for high-traffic areas and spaces with stringent safety regulations, this style offers both visual appeal and practicality.
Conclusion: Elevating Business Interiors with Glass Stair Railings
Selecting the right glass stair railing style for a business involves aligning design with brand image, considering the nature of the business, and prioritizing practicality and safety. Whether opting for contemporary elegance, architectural harmony, classic sophistication, brand-centric customization, or practical stainless steel combinations, businesses can elevate their interiors.
The chosen glass stair railing style becomes integral to the overall business aesthetic, contributing to a professional and welcoming environment that reflects the brand's identity and values. Contact us today at ProWeld. We would love to help you find the right designs for your home or business. Call our seasoned team today.