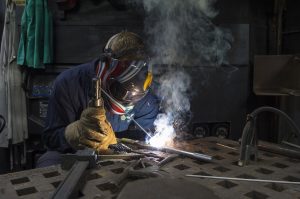 Welding is not one size fits all. There are numerous techniques and different types of welding, and it can be extremely difficult and confusing to narrow down which type you need for your project. One of the more common types of welding is TIG welding. TIG stands for tungsten inert gas, and it is also known as gas tungsten arc welding, or GTAW. We know that probably just made things even more confusing, but don't worry, Pro Weld LTD takes all of the guesswork out of finding the right type of welding for your project needs! Learn more about TIG welding below.
What is So Special About TIG Welding?
The thing that really sets TIG welding apart from other welding techniques is the tool used this type of welding requires. Like we mentioned, the 'T' in TIG stands for tungsten, which is the type of electrode used in this form of welding. The tungsten electrode has a very high melting point and therefore won't melt when you are working on your base metal. With many other types of welding techniques, like MIG welding, the electrode melts and becomes "filler metal," which means that the melted electrode becomes part of the piece of base metal that is being welded. Unlike other types of welding techniques, the TIG equipment melts only the base metal, and therefore, the electrode in the TIG welding equipment will not melt onto the piece of base metal being worked on. However, there is an option to add a filler rod into the TIG equipment, in which a certain metal will melt and join with the base metal. This is why the TIG technique is great for making both small arcs or detailed designs.
What is TIG Welding Used for?
TIG welding is used to join two small pieces of metal together. This special welding technique is especially useful for precise welds or small area welds. Since the welder has the ability to accurately control the temperature and movement on the TIG welding equipment, detailed designs, and clean lines can be made with this technique.
When Can it Be Used?
The TIG welding process works best on thin metals, as it is a very precise technique. Also, only nonferrous metals can be used in TIG welding. This means that TIG cannot be used for projects consisting of materials like alloy steel or carbon steel. However, TIG welding works just fine with metals like copper, aluminum, or brass.
What Else Should I Consider?
Since the TIG welding process is so accurate, it is usually a timely project. Also, if you are looking to weld large, or thick pieces of metal, you may want to consider MIG welding.
The great thing about TIG welding is how much control there is. If you are looking for sleek, crisp, clean welding lines, TIG is the way to go. This technique is used commercially for car parts, especially bumpers.
No matter how large, small, intricate or simple your project is, Pro Weld can help you decide which type of welding technique is best fit for your needs.