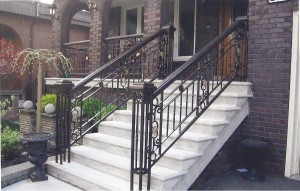 With people keen to make their own property look as beautiful as possible before even thinking of moving to another one, it seems every feature of the home is coming in for scrutiny and improvement. A great way to improve the look of your home that you might not have thought of is railings. Stainless steel railings are a popular choice in many homes, so here's what to consider if you're going down that route.
Stainless Steel Railings – Factors to Consider Before Purchase
Fortunately enough, stainless steel railings tend to match with the outside appearance of any home, but the style of your railings is still important. Available in several styles, there are a few things to consider before purchasing, such as:
Square or circular beams?
Solid beams or cables?
Light and reflective or dark?
Patterned or plain?
You'll know your property and your tastes better than anyone, so make sure you're heading into the shop with a good idea of what you want, and don't let the salesperson sell you something you don't want or need.
All Steel – or Partial Steel?
In today's world, it's common to see a mix of styles coming together to make one railing. Whether it's wooden posts with stainless steel railing cables or a mixture of steel and glass, that choice is up to you – but be careful.  Whilst it has the potential to look great, if done poorly it can be quite an eyesore, so tread carefully if this is something you're thinking of doing, and make sure you get a second opinion.
Security, Practically or Aesthetics?
Depending on the intended use of your railings, you might want to approach the design of them a little differently. If you're buying them as an added security feature or deterrent, then you may want to consider a taller or more solid railing design. If you want them to be practical, such as for a hand rail accompanying stairs, then you're going to want to make sure that the top of the railing is at least comfortable to grip. If the appearance is all you're worried about, then that comes down to individual taste.
If you want to keep a high level of privacy in your home, then you're want to have either a solid or thicker-barred railing in your home. Whilst they look good, cables won't do much to keep nosy neighbours from peaking in.
Can You Install them Yourself?
If you're a contractor or handy with DIY, then self-installation is a great way to save money. However, if it's out of your skill level, then you'd be better off leaving it for professionals.
A Great Product – If Well Thought Out
Stainless steel railings are a great product, but only if they are thoroughly considered and thought out before buying. Don't run the risk of buying something you don't like or that doesn't work how you wanted it to – make sure to do your homework first.