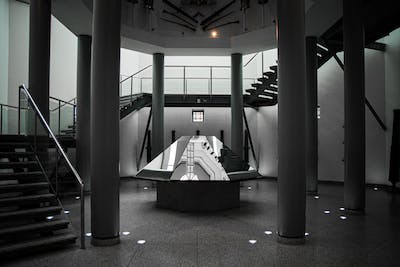 When it comes to creating a stylish and sophisticated business environment, every detail matters. One often overlooked element that can significantly impact is the choice of stair railings. Stylish stair glass railings offer a modern and elegant solution that can elevate the aesthetics of your business space. This guide will explore the benefits of choosing glass railings for your stairs and how they can enhance the overall ambiance and design.
1. Sleek and Contemporary Design:
Glass railings provide a sleek and contemporary design that complements modern business aesthetics. The transparent nature of the glass creates an open and airy feel, making your staircases appear more spacious and inviting. Minimalist glass rails for stairs seamlessly integrate various architectural styles and decorative elements.
2. Enhanced Visibility:
One of the critical advantages of glass railings is their ability to offer unobstructed views and enhanced visibility. Unlike traditional railings made from wood or metal, glass railings provide a clear line of sight, allowing visitors and employees to see the entire staircase and its surroundings. This enhances safety and contributes to a more open and welcoming atmosphere.
3. Natural Light and Transparency:
Glass railings allow natural light to flow freely through your business space, brightening up staircases and adjacent areas. This can create a more vibrant and uplifting environment for employees and visitors. The transparency of glass railings also ensures that the staircases blend seamlessly with the rest of the space, maintaining a cohesive and visually appealing design.
4. Durability and Easy Maintenance:
Contrary to popular belief, glass railings are highly durable and require minimal maintenance. The glass used in these railings is typically tempered or laminated, making it resistant to breakage and providing long-lasting performance. Additionally, glass railings are easy to clean, requiring occasional wiping with a glass cleaner to maintain their pristine appearance.
5. Customization Options:
Glass railings offer various customization options to suit your business aesthetics. You can choose from different glass thicknesses, finishes, and textures to achieve the desired level of privacy and design appeal. Additionally, the hardware components, such as handrails and connectors, can be customized to complement your business's overall style and branding.
Stylish stair glass railings can transform your business space, elevating its aesthetics and creating a sophisticated ambiance. With their sleek design, enhanced visibility, natural light transmission, durability, and customization options, glass railings are ideal for businesses seeking to make a lasting impression.
Embrace the elegance of glass railings and create a visually stunning environment that reflects your business's professionalism and attention to detail.